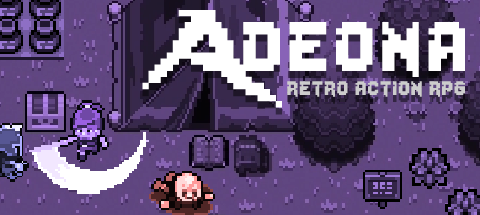 Adeona
4/22/20 - Closer to a Finished Demo
---
Hello Retro Geeks! It's my birthday today, and I figured I'd treat myself by finally getting a much bigger update/build pushed out for people to test and play with. I've really began to lay on the polish and touches to this build and it's beginning to feel like a more complete game. The story has been fleshed out and focused a bit more, and we've implemented some new mechanics to help make the game connect with the player more! Please download, play, and tell me the honest truth of what you think. Your feedback really helps me to drive continuing development.
Updates:
Added Exposition Text to the beginning of the game
Amber/Player is now animated during some cutscenes
Loading screen isn't fake anymore (lol) and stays throughout game
Restructured colors so all villages/humans are colored and nuetral is gray scale
Added new shader that color swaps pixels instead of just tinting them for colors
Added Interactable Choice for Pokemon Style Choice system
Added Shop system to Noctua Village
Made teleporter choice related so you can decide on where to go
Added more levels to Noctua Customs
Added a flee state to AI
Fixed some bugs with game not resetting when exiting to menu
New State System used for Player and AI
Added Tweening for UI Animations
Added Endurance Regen Platform
Objects that have long scripts now have the choice to read or not
Restructured Throw Items
Refactored sound system to have a database
Added Coyote Time to pitfalls
And just trying to fix a ton of bugs in general
More progress to come! This game will be finished.
Files
Adeona Build 0.4.2 PC.zip
140 MB
Apr 22, 2020
Adeona Build 0.4.2 Mac.zip
158 MB
Apr 22, 2020