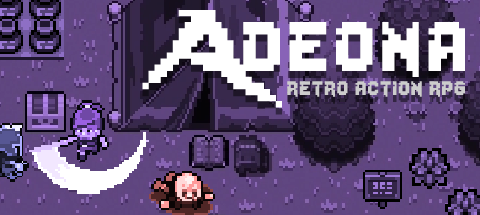 Adeona
It's been a looong minute since I've last updated this game... but I finally have a significant product to show everybody and I need people to play test it. I'm pushing the game out of Alpha and now into Beta testing as I have implemented all the features I plan to have in the game. So lets dig into the details of what comes with this new update:
Story Mode

The game now starts you out in the middle of the Noctuan Forest and takes you through to the beginning of the first dungeon
Rudimentary Cutscenes have been implemented with Emoticons to clarify who is talking
Quest System has been implemented to guide you through the story
Full tutorial has been implemented
You can read through items

Gameplay

5 different types of special attacks have been added: Stun Ball, Push Back, Heal, Shield, Dash
Health Systems expands with health containers
Endurance system limits special attack use
Endurance refilled by Idling or by hitting enemies/objects
Running implemented (lol)
Keys and locked door added
More puzzle types

Arena Mode

I originally had this just as a testing mode, but I plan to implement this as a side game mode
Is currently broken in the current build so it is removed for now
I also plan to start posting to this devlog more often and try to update bi-weekly with bug fixes.
If you find bugs please message me! Enjoy!

Files
Adeona Beta PC 0.01.zip
113 MB
Sep 22, 2019
Adeona Beta MAC 0.01.zip
156 MB
Sep 22, 2019