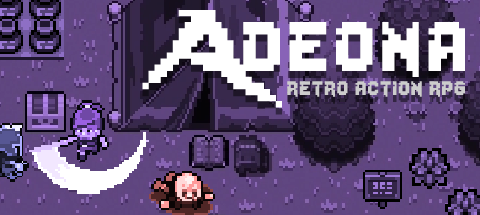 Adeona
A downloadable game for Windows and macOS
Welcome to Adeona's Itch.io page! Please note this is an BETA build and so it will be buggy. It is being posted with the purpose to let testers test and find bugs.
What is Adeona?
Adeona is a role-playing game developed by Box Attack Studios. Our game pays homage to the 16-bit era and tells a story of tribalism and ignorance in a post-apocalyptic world. You play as Amber, a young orphan on a quest to rescue her brother from the Gods of the Arkadia. Embark on an adventure of corruption and betrayal created by Drew Bushnell.
Core Gameplay
Fight your way to gods in a retro role-playing adventure. Can you survive a series of dungeons, hordes of minions, and blistering bosses? Amber is armed with slasher-style sword attacks, arrows, bombs, and a dash to solve the puzzles of Adeona. Explore and discover the rich history of Arkadia in classic 2D action.
Setting
Arkadia is a primitive world set centuries after a disease has destroyed humanity. To survive humans went into hiding, now they return to reform civilization with the help of their gods. The continent has been split between five warring tribes. The Noctua, Ferox, Leifield, Nil Garden, and Marmis rule the territories of Arkadia however they deem fit.
Game Release Info

The Beta is out! Click and download below. A full demo for Adeona is planned for PC, Mac, and Linux later this year. After the demo released we plan to launch a Kickstarter. Our goal is to generate $10K for the full game and to release on Steam Direct, Itch.io, and GOG.com.
Download
Click download now to get access to the following files:
Adeona Build 0.4.2 PC.zip
140 MB
Adeona Build 0.4.2 Mac.zip
158 MB
Comments
Log in with itch.io to leave a comment.
I was going to test but i find a little problem...My OS is 32 bit =( =( =(
I apologize, Unity no longer supports 32 bit builds for Mac or PC so I can no longer build for that OS :/